13 July 2017
Star Conflict 1.4.5b: Vigilant Returns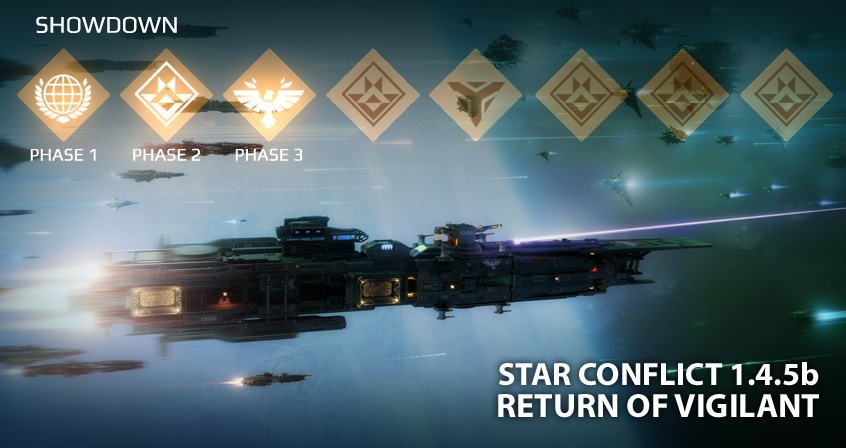 Cryptogram AAIM20-208402
To: Strictly secret! Only for executives with AAA access
Cc: Empire Security. Archive
Subject: Power of the Empire
As you know from previous reports, as part of Operation Confrontation, our staff and myself personally organized and successfully held an operational meeting with the so-called 'Guests' who arrived from Metropolis. The meeting was held in a remote system SY3176-GIII-A4. The meeting was attended by emissaries of all interested parties, and, as always virtually, the infamous 'Lady' was present.
Even against the background of catastrophic news from the Metropolises, our problem with the activity of the Ellydium Corporation looks very serious. And it requires an immediate solution. The main concerns of all interested parties are still caused not only by new technologies that threaten our financial interests in the region, but also their extreme instability and unpredictability. We assume that Ellydium engineers are deliberately creating something that can get out of control at any time.
As a response, it was decided to strengthen the fleets of rank 14 destroyers, as well as to conduct global work on modernization and strengthening of the entire fleet of ships. Since the systems of Jericho destroyers are still being tested for unauthorized access by third parties and are not ready for production, the Empire is ready to give all pilots access to the documentation of their rank 14 destroyers.
Eric Holst, Centurion of Imperial Spacefleet
Cryptogram BBIМ24-208412
To: all@star-conflict.com
Subject:Project 'Vigilant'
Pilots! It's time to strengthen the fleet again with the power of rank 14 destroyers. UMC leadership was able to allocate capacity for construction of the Empire destroyer 'Vigilant'. The ship's unique special module and its active modules and modifiers will also make a return. The construction of the destroyer 'Vigilant' will be available for a limited time!
UMC Administration
Destroyers
With this update the rank 14 Empire destroyer becomes available to all pilots once again. We remind you that destroyers are a new class of fire support ships with significant fire power that can use additional energy shields and special weapons.
All new destroyers are of the Suppressor class.
Rank 14 destroyers have 9 modification slots.
To build 14 destroyers you need a special ingredient — Electrum.
Electrum can be obtained in special container bundles.
Electrum can be obtained as a reward during post-battle trophy search.
You also need a unique component — Empire destroyer activators.
Empire Destroyer Vigilant
Class:Suppressor Class Dest
Allegiance: Empire
Rank: 14
A beautiful example of imperial ship production, the destroyer Vigilant was developed by order of the Inquisition, as a response to sharply increased activity of the Revenant cult. The project was personally supervised by special agent Miranda del Arte. The Inquisition is well acquainted with the activities of the Order. The two organizations that since have undergone a huge metamorphosis, faced each other in the days of the old Direktoriua. Despite the initially narrow specification, Vigilant proved to be a versatile combat machine. It was soon adopted and the blueprints have been presented to UMC.
Features of rank 14 Empire destroyers
Accumulates 5% free synergy.
Hull strength 127 600 points.
Shield volume 18 000 points.
Energy reserve 3 400 points.
Weapon damage increased by 7%.
Additional bonuses for increasing synergy level.
Upon reaching level 2: increased resistance to thermal damage.
Upon reaching level 4: choose one of three during assembly.
Upon reaching level 8: choose one of three during assembly.
Special module: Beam destructor
Deals damage increasing over time. The target also loses 167 energy units per second. The module stops working if the distance to the target increase by more than 600 m.
Weapons: Vacuum resonance laser
Unique weapon available only to Vigilant destroyer. If you keep the beam on the target for more than 1 sec., the target and all enemies within a 500 m. radius receive additional damage for 5 seconds.
Active module: Remote minelayer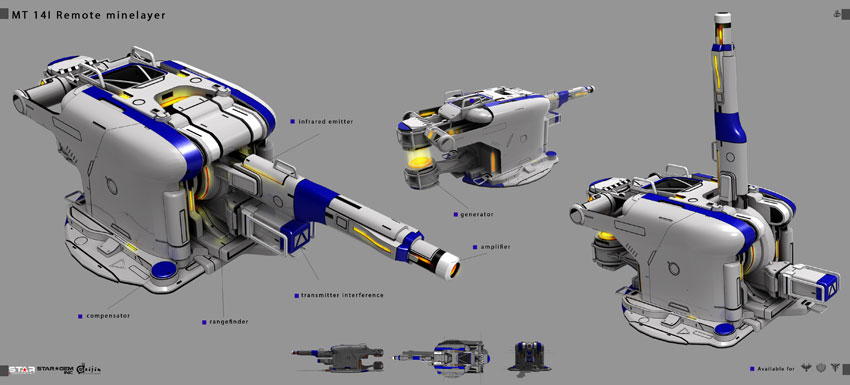 A unique active module available only to the Vigilant ship. It produces a self-propelled mine activated with a collision or on a timer. After activation the mine is invisible. Triggers if the target is moving away from it within a detonation radius of 500 meters or after 120 seconds.
CPU modifier: Vulnerability Detector
Unique modifier available only to the Vigilant ship. Decreases resistance to damage by 30 pts. for all enemies within a radius of 2200 meters.
You can install only one modifier of this type on the destroyer.
New Broker missions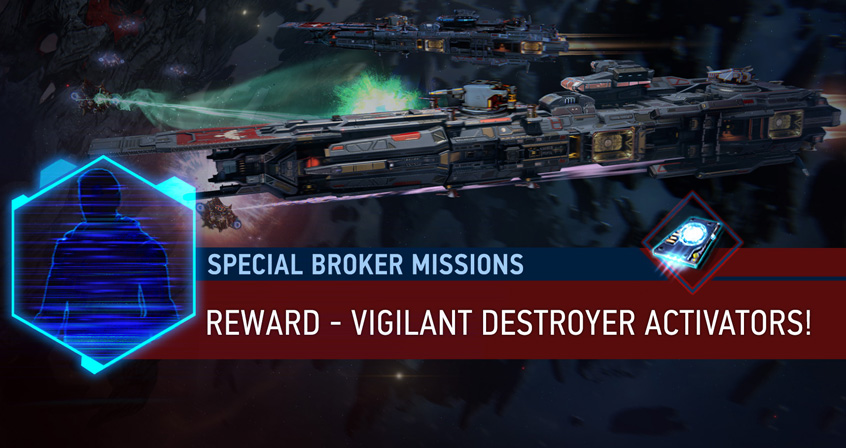 UMC announces the start of special missions, dedicated to building rank 14 destroyers. The Broker offers new tasks for all pilots. His employers are interested in the speedy strengthening of rank 14 destroyers.
Every day, new tasks from the Broker will be added.

Tasks will be available from 13.07 to 26.07 inclusive.

As a reward you will get valuable resource Electrum required to build rank 14 destroyers.
Sokal tasks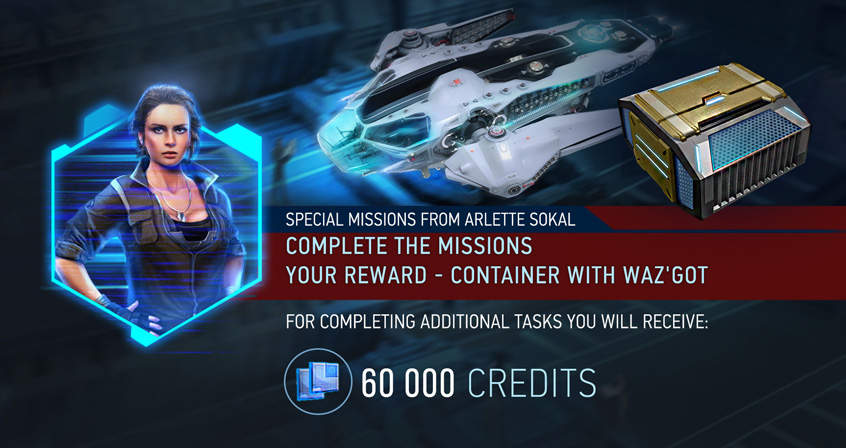 Pilots! Once again, his is head of the security at Ellydium Corporation, Arlette Sokal. We still offer a reward to those who are ready to confirm their loyalty in battle. For any three tasks completed, you will receive a reward — a container with cabin parts for Waz'Got. You will be able to earn bonus credits and free synergy by completing my special assignments:
Reward for completing assignments — 60 000 credits

For any three tasks completed, you will receive a reward — a container with cabin parts for Waz'Got.
Contracts
Based on feedback from the players and as a result of the analysis of statistical data, we decided to let players perform tasks in more comfortable conditions. As part of this, the system for obtaining xenocrystals was reworked. Now xenocrystals can be obtained as follows:
Completing Dimeni's tasks with difficulty selection:
Ellydium. Ship destruction.

Ellydium. Dealing damage.

Ellydium. Effectiveness.
Difficulty reward:
Ranks 1-6: pilots will receive 10 (with a premium account — 15) xenocrystals.

Ranks 7-11: pilots will receive 14 (with a premium account — 21) xenocrystals.

At the maximum account level, pilots will receive 24 (with a premium account — 36) xenocrystals.
Completing Dimeni's weekly tasks.
Completing Dimeni's Teamwork mission.
Ships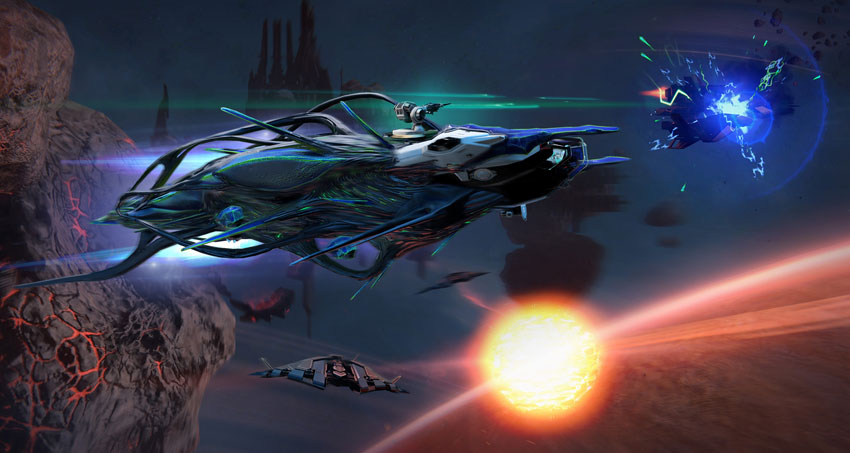 We continue to make balance changes in key parameters of game modes, weapons and modules. All changes have been made based on analysis of battles and statistics.
Tai'Kin
Increased Warp-vortex recharge time from 35 sec. to 40 sec.
Increased Jump drive recharge time from 30 sec. to 35 sec.
Increased Jump crystals charge time from 15 sec. to 20 sec.
All modifications of the module 'Camouflage shield refractor' are now charged for a longer time:
From 6.5 sec. to 7.5 sec. on lower ranks.

From 5.4 sec. to 7 sec. on higher ranks.
Changed parameters of some ship tree nodes
Rank 9 hull reinforcement is now 8% (previously 10).

Rank 11 hull reinforcement is now 6% (previously 7.5).

Rank 15 hull reinforcement is now 7% (previously 7.5).
Miscellaneous
Improved server stability.
Improved and optimized a number of graphic effects.
Players with a premium license received a special background for the avatar.
Improved hangar interface.
Tweaked conditions for obtaining achievements related to the ships that have been discontinued.
Tweaked xenocrystals description.
Changed SecCon location rewards.
Bug fixes
Fixed a bug with corporation applicants showing up in corporation leaderboards.
Fixed a bug with Waz'Got drones behaviour in open space.
Fixed scrolling with the mouse wheel in the bulletin board.
Fixed a bug when purchasing Stingray.
Fixed a bug with chat lines.
Fixed a bug with the trade window.
Sincerely,
Star Conflict Team
---