3 Juli 2020
Testing balance changes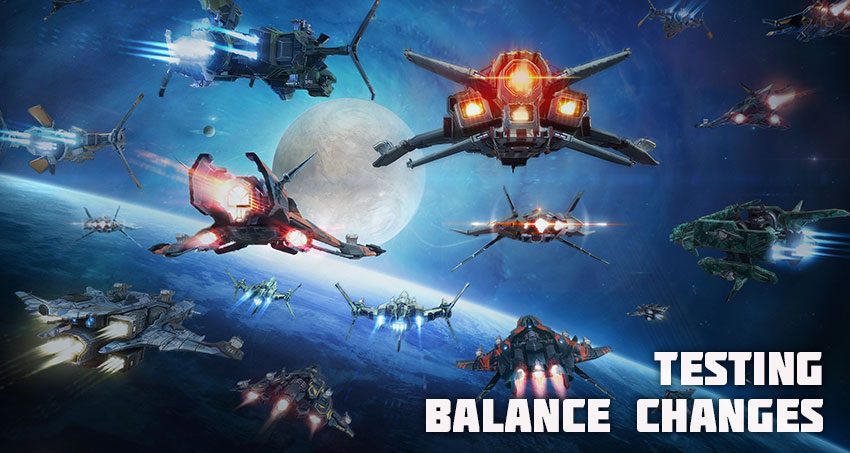 Pilots! The UMC launches a special test version of the game with balance tweaks proposed by the players. This version of the game will be available to everyone on a separate test server.
Public test server
Testing will be held on the Star Conflict public test server.
The public test server is a game space independent of the live server where updates are uploaded for mass testing.
Mass test schedule:
The public test server will run for a limited time. The server is intended only to test an update that is being prepared for release.
Friday: 18:00 MSK - 22:00 MSK

Saturday: 18:00 MSK - 22:00 MSK

Sunday: 18:00 MSK - 22:00 MSK
Ships
Destroyers
Reduced respawn time by 5 seconds
Empire Destroyers
Missile bay reloading time reduced from 15 to 10 seconds.
Destroyers Vigilant, Brave, Invincible
Weapon damage bonus increased from 7 to 15%
Long Range Jericho Frigates
Shield durability increased by 20%
Weapons and missiles
Mass Driver
"Dazzler" railgun
Duration of debuff to reloading time reduced from 7 to 3 seconds.
Echo cannon
Projectile speed increased by 20%.

Damage increased by 10%.
Plasma burster
Range reduced from 5300 m to 4800 m.
G'Thar'Du Cannon
Rate of fire increased to 35 rounds per minute.

Projectile speed increased from 2000 to 2500 m/sec.
Thermoactive weapon
Range increased from 4050 m to 4300 m.
Drone operator "RepK-2"
Repair kits are pulled in by allies located 400 m away from them.
Kinetic Supercharger
Special modules and implants
Emergency landing
Undocking restores 5000 hull over 3 seconds
Green mist
Reloading time increased from 12 to 15 seconds.
Spatial stabilizer
Damage bonus increased to 55%

Range bonus increased to 10%.
Jumpdrive
Now, when warping is blocked, the module cannot be activated.
Implant 8-2
Now has a cooldown of 12 seconds
Active modules
EM Scattering Field
Cooldown and active time reduced by 30%.
Swarm control
Reduced damage bonus when activated from 150% (17 Mk.4) to 100%.
Hammerhead Battle Station
Station durability increased by 20000/30000/40000 depending on the station's level

Missile speed increased
Devastator beam
Damage accumulation reduced by 10%

Cloud size increased by 10%
Repelling Beam
The module now belongs to the group "universal modules"

Increased recharge time to 25 seconds
Radiation converter
Reduced the efficiency of shield recovery from damage
Modifiers
Ally recharge 8/17
Increased module efficiency
Combat control
Projectile flight speed increased to 4000 m/sec.
Report errors found in this section.
Sincerely,
Star Conflict Team
---