12 September 2017
Project Evolution: Ellydium ships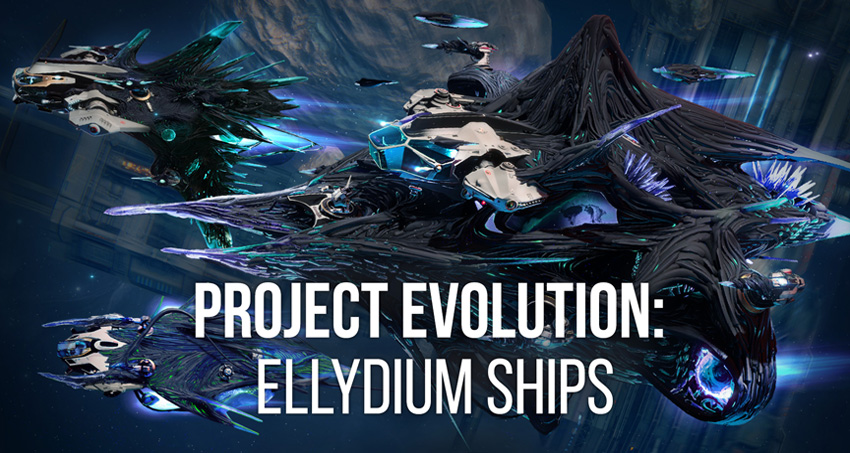 Ellydium Corporation stands firmly at the front of scientific and technological progress and the future of all mankind. Despite the martial law, scientists and engineers of the company working on Alien tech, have reached unprecedented heights. So Ellydium launched the most important scientific project in the history of fringe sectors — Evolution!
Time to strengthen your fleet, pilots! The first ships of the Evolution project are already available to all pilots at the new station 'Ellydium Theta' — a reliable outpost of mankind in the world of Aliens!
Envy and fear in the eyes of enemies! The ship 'Thar'ga' became one of Ellydium's major breakthroughs. Experiments showed that crystal growth can be controlled, resulting in more than a hundred different versions of the ship for various needs. Such a dangerous and powerful technology, coupled with advanced 'Ellydium' projects makes 'Thar'ga' one of the strongest weapons of war, and the corporation paid a terrible price for it with the tragedy in block RG7 of station 'Ellydium Theta'.
Bring an enemy destroyer to your own base? No problem! Tai'Kin has absorbed all the latest scientific achievements of Ellydium laboratories, which have reached unprecedented heights in the development of Alien technologies. The ship turned out incredibly fast and maneuverable.
Baron of the bay of lost ships! The newest state-of-the-art engineering frigate 'Waz'Got' is the quintessence of scientific thought and the result of the collective work of all the employees and scientists of the Ellydium Theta station. The frigate's incredible capabilities will provide its allies with reliable support and will give a chance of victory in battle even over superior enemy forces.
Sincerely,
Star Conflict Team
---