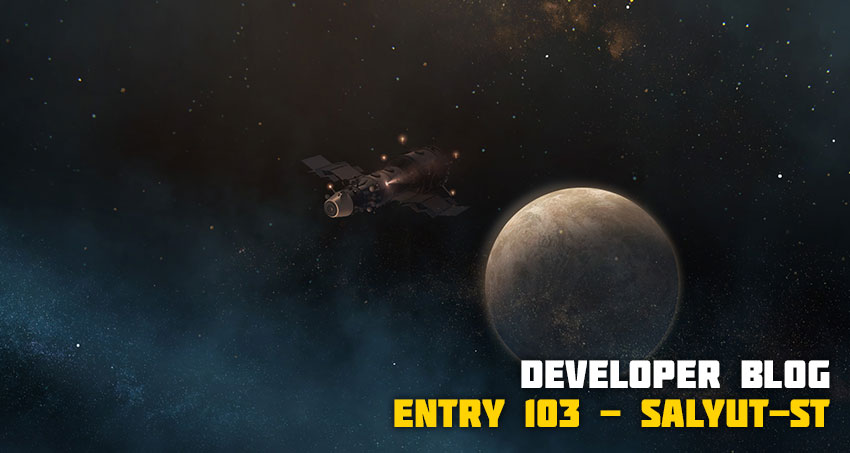 Pilots! We continue to share the latest changes that will appear on the game servers in the upcoming updates. Among them are new, unique events in open space, changes in modes and, of course, ships!
Today we will tell you about the new ship "Salyut-ST"!
Salyut-ST is another development from the Directorium times. However, unlike the proven Spiral and Endeavour, the ship was not mass-produced at the time and the project was frozen. The reason for this is the rather complex design, the offset centres of gravity and the complex alignment of the engines, which prevented that version of the ship from being able to fight with the known ships on equal terms. This ensured the fact that they were not involved in the battle with the "Fringe" fanatics.
The project received a second life during the second Invasion. In conditions of war and limited resources, it was necessary to adopt a fleet capable of fighting and disorienting the enemy without drawing attention. Salyut-ST executed this task perfectly. Despite the external similarities with objects of the first space conquest, the inner shell of the ship was equipped with the most modern equipment of the Imperial ECM ships, the armouring system was redesigned and the engines were completely changed.
At the end of the Invasion, the blueprints of this model were kept secret for a long time. Now the ECM has decided to start an open development, and the collectors have already offered a handsome sum for such a ship.
This ship will have a unique rank change mechanic already familiar from the "Object NY-18" ship. By upgrading the ship using the same system, you will gradually gain access to the ship's unique special modules. Upon reaching a certain level, there will be three of them to choose from.
The ship drains the energy from enemy ships in front of it and slows down the rotation of their weapons

The speed of the enemies in front of the ship is forcibly increased while their turning speed is reduced

The work of the weapons and modules that belong to the enemies in front of the ship, is disrupted. The weapons shoot at their allies, and the modules are disabled and cannot be activated.
The ship will be obtainable during a special event. You will be able to buy the ship parts with xenochips, which you can get for completing in-game tasks. It will also be possible to immediately purchase a ship in the DLC bundle.
At the end of the event, you will be able to sell the extra parts or buy the missing ones in trade.
The wait is almost over! Stay tuned!
Looking forward to your comments!
Sincerely,
Star Conflict Team