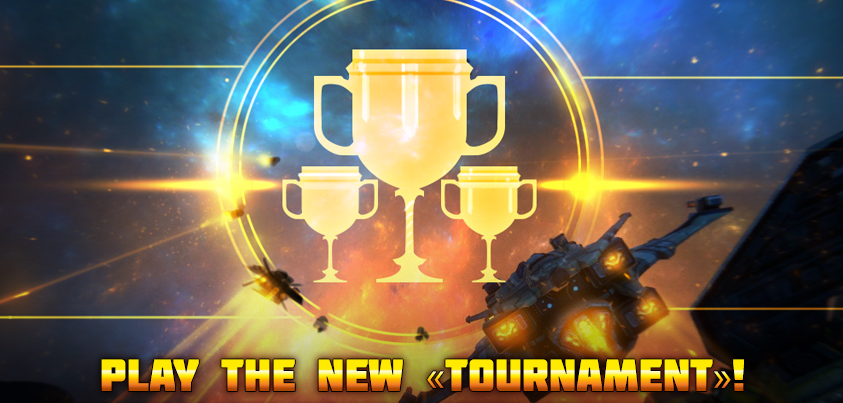 Do you want to prove to everyone that you are the best pilot of the Universe? The famous pirate baron in Felony system announces a weekly tournament for all mercenaries. Victories are rewarded with pure gold! Want to earn respect? The baron gives you an opportunity to do so. Show what you can do in three rounds of battles with adventurers just like you! Prove that you are worthy of the reward!
Tournaments are held regularly once a week on Sunday.
During the day there are three tournaments, at 01:00, 16:00 and 19:00 GMT.
Registration begins 10 minutes before the start of the tournament — just select the "Tournament" mode. During those 10 minutes, you are not able to fly in other game modes. But you definitely do not miss the moment and there is some time to discuss game tactics with your friends.
You can join the tournament:
In a wing of up to 8 people

In a squad of any number of people

As a single pilot
The system automatically analyses and distributes the teams. At the beginning of the registration and the start of the tournament a special announcement are showed in the game chat! Do not miss it!
One battle is limited to 8 minutes, game mode is Team Deathmatch. Ranks 7-9.
Your task is to win as many battles as you can. One round — one battle. All teams take part in three rounds. The team to win all three fights receives 500 iridium for each pilot. In addition, for each subsequent victory pilots get bonuses to synergy and credits gain. Fewer wins — smaller bonuses. Everything is simple.
For each subsequent victory pilots get the following bonuses to synergy and credits:
0 wins: + 0%

1 win: + 50%

2 ​​wins: + 100%

3 wins: + 200%
After a defeat the bonus is not reset.
Tournament participants receive their rewards in iridium after the end of battle:
0 wins: 0 iridium

1 win: 200

iridium

2 wins:300

iridium

3 wins: 500

iridium
Earn 250 iridium in half an hour — where else is it possible for a casual player?