Pilots! We continue to share the latest changes that will appear on the game servers in the upcoming updates. Today we will tell you about the third phase of the Moon Race, the new location and the event in the Open Space!
"Return from the Stars"
We remind you, that in honour of the 2650th anniversary of the first landing on the satellite of the legendary Earth — the Moon, all pilots can participate in a special event — the "Moon Race"!
"Moon Race" will be held in three phases. The third phase will be available from September 5. From this day on, pilots will have access to all three phases of the race. You can open stages in all phases at the same time.
To gain access to all the rewards of the third phase, pilots need to purchase the Moon Pass "Return from the Stars". As in the past, the rewards for the first and every fifth stages will be available to everyone, regardless of pass ownership.
In return for the completed stages of the Moon Race, players will get unique stickers, paints, decor, portraits, pirate equipment for ships and many different bonuses. And for the last stage of the phase, all players will be able to get the final part of the "Manual Piloting System" of the three required for the Jericho guard frigate Custodian!
New location "Dreamland"
First there was a rift in the fabric of space-time. A terrible "emptiness" that led into the unknown. A narrow gap at the outer boundary of the Hill sphere in the Ontregos system. The first automatic stations sent to the other side broadcast joyful news that this was not a dangerous and mysterious world of Aliens, but a rift in our space. A new road to new worlds, perhaps unaffected by the Invasion and the war. Allegedly, there, beyond the rift, was a previously unknown terrestrial star system with planets suitable for settlement. Oxygen atmosphere. Oceans of water. Green continents. A fairy-tale world that was immediately christened "Dreamland". Nobody expected what really awaited on that side...
"Hostile Waters" Event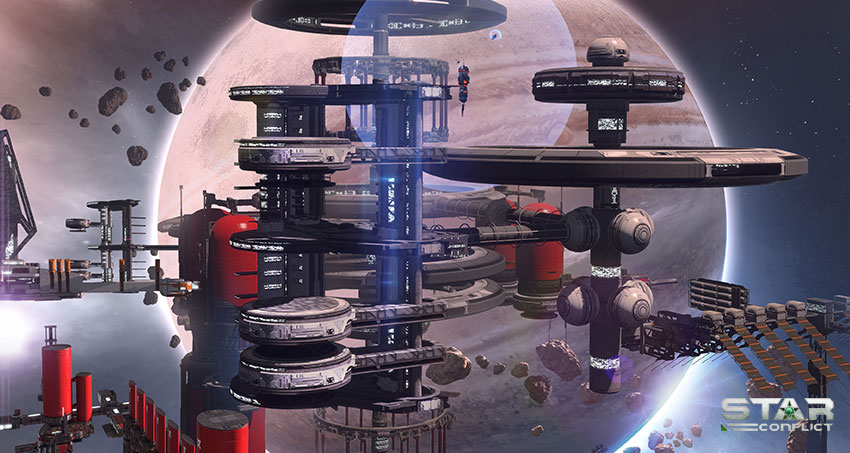 The rift in space, which was formed, according to our guess, as a result of a certain experiment, allowed the imperial military from the station "Guardian-17" to get into the location and even assemble a small outpost at the boundary of the rift. Unfortunately, the Empire currently lacks the strength for a full-fledged operation. The UMC proposes to use mercenaries. The operation will be overseen by the tribune of Imperial security Olaf Larsen.
The wait is almost over! Stay tuned, and see you in space!
Looking forward to your comments!
Sincerely,
Star Conflict Team