Pilots! We continue to share the latest changes that will appear on the game servers in the upcoming updates. Soon we are expecting an update of Open Space, new modes, maps, unique events and much more! Today we will briefly tell you about new ships and the latest project — "Seed-Chips"!
Seed-Chips
UMC published the first data on the so-called "Seed-Chips," a unique prototype for improving its ships.
Judging by some data, the first Seed-Chips appeared when access to the Artuga system was opened. Enclave pirates distribute their products to mercenaries using covert delivery routes.
Studies in UMC laboratories have shown that Seed-Chips change the key characteristics of ship modules in a special way. Each Seed-Chip is unique and influences changes in its own way. Special technology for merging Seed-Chips enables pilots to independently obtain chips with new higher parameters.
Sources and production technologies of Seed-Chips are still not clear, therefore their use is allowed only in battles against AI, in PvE missions and Open Space. Pilots should install pirate technology at their own risk!
New modules with random parameters and random characteristics that improve weapons and damage abilities of the ship.

There will be many modules, players will be able to combine them to make the modules stronger.

Up to five modules can be installed on a ship.
Federation engineering frigate "Hammerhead"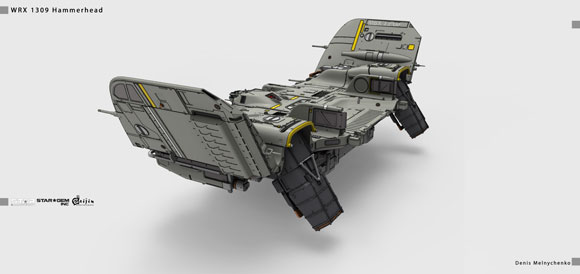 Hammerhead, the latest engineering frigate, was created at the very beginning of the invasion at the "Outpost" shipyard. The use of this ship allowed Armada to repel the attacks of Aliens, without incurring significant losses, until the end of the active phase of the invasion.
Among the features of this vessel, it is worth noting the variable geometry of the wing, thanks to which, Hammerhead significantly surpasses other ships of its class in manoeuvrability.
The ship is equipped with a unique special module. When activated, an autonomous repair station is installed that produces a powerful repair kit, drones with a small repair kit or combat drones, depending on the selected parameters.
The active module sets up a spherical mobile barrier, providing ships with additional cover.
Critical hits with the unique weapon create repair kits available to all allies to restore their durability.
Federation interceptor "Marten"
A Sci-Tech Universal interceptor, created in the laboratories of the Artuga system. At the moment, Marten is their main achievement in the field of military equipment.
Equipped with a unique special module, creating a wormhole used to move the ship.
The active module reveals the location of opponents and slows down their hull durability regeneration. And a special weapon releases reverse electromagnetic waves, reinforcing the interceptor's attacks.
The wait is almost over! Stay tuned, and see you in space!
Looking forward to your comments!
Sincerely,
Star Conflict Team