20 December 2016
Daily holiday Tournaments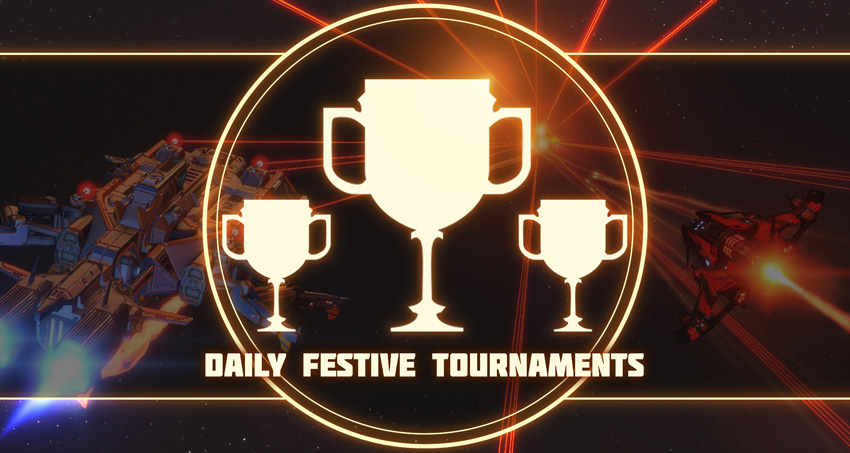 The infamous pirate Baron Rosso from the system Vega reminds you that during the holidays, and until January 17 tournaments will take place every day.
The rules of the tournaments are the same. You can find them here.
The most important part: two tournaments are held during the day — at 01:00 and 18:00 GMT.
Attention! Sector Conquest time will be different during the holidays. SecCon will be held at 17:00 GMT.
You can take part in any number of tournaments.
To participate in the tournament, you'll need ships of certain ranks.
From Monday to Saturday the tournaments are held:
Mon, Wed, Fri: ranks 4-6.

Tue, Thu, Sat: ranks 7-9.
Your objective is to win as many battles as possible. Teams play three rounds in total. In addition, for each subsequent victory pilots get xenochips. The more you win — the more you get. Everything is transparent and simple.
For each subsequent win pilots get xenochips:
0 wins: 0 xenochips.

1 win: +1 xenochip.

2 wins: +3 xenochips.

3 wins: +5 xenochips.
After a defeat xenochips are not reset.
The reward is issued after the end of the battle, provided you do not quit it in the middle of the tournament. Then, of course, you get nothing but the feeling of loss.
Rewards for Sunday tournaments remain unchanged:
0 wins or abandoning the tournament: 0 Galactic Standards.

1 win: 50 Galactic Standards.

2 wins: 100 Galactic Standards.

3 wins: 250 Galactic Standards.
Sincerely,
Star Conflict Team
---