21 December 2016
Stage 1. Gathering unique resources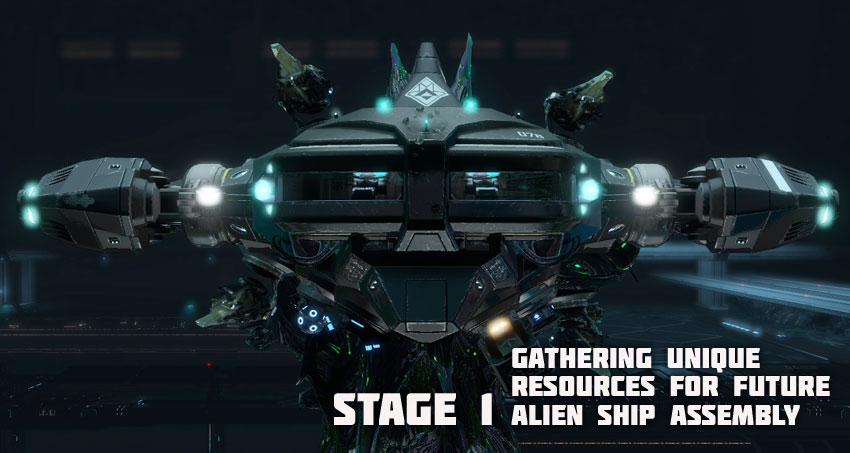 On December 20th we launch the first phase of Ellydium gunship 'Thar'Ga' assembly — gathering of unique resources for future Alien ship assembly. The ability to grow a full ship will be available to mercenaries from January 3rd. This is done in order to even the odds of getting new ships for all pilots.
In the period from December 20th to January 17th you can get unique resources at higher rates than after the holidays.
The cabin is the most important component of the ship. We recommend all pilots to start collecting the required components for cabin assembly.
The following components are required for building a cabin:
A durable panel made of Alien composite alloy

Alien fighter structure*

Monocrystals

Metal blank

Graphite plate
*Component 'Alien fighter structure' will be available to players from January 3rd.
Components can be purchased in 'Xenocontainer' bundle where you can find Xenocrystals rare Alien alloy resources. Xenocontainer can be purchased in the game store with Xenochips.
Xenochips will be awarded to everyone taking part in the 'Tech race'.

Xenochips can be obtained by completing missions from Miss Frost and Selena Galo.

Xenochips can be obtained by participating in tournaments.

Xenochips will be removed from the game on January 17th.
In this bundle pilots will also get one of the special weapons from the Klauss Inc. corporation. Modified weapons inflict double damage to destroyers and are 15% more powerful than their conventional counterparts.
During the New Year holidays these weapons will be available to mercenaries in the winter form. After the holidays, on January 17th, the weapons will be withdrawn from all pilots.
Learn more about the special 'Klauss Inc.' weapons in the official news of our project.
Take part in in all UMC missions during the New Year holidays, play in tournaments and leagues. Become one of the first to build an Alien ship!
Sincerely,
Star Conflict Team
---