2 February 2017
New Squad recruitment system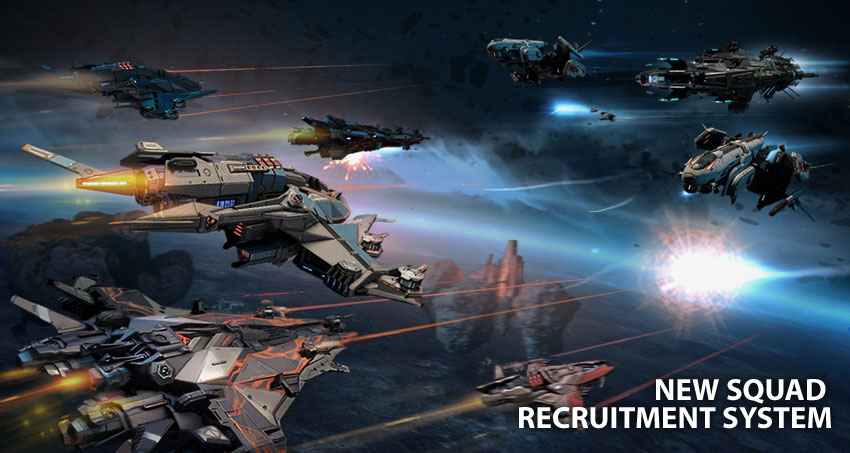 Playing in a squad or a wing offers additional tactical possibilities in battle. It adds entertainment, pilots get more impressions from battles and they can use new and unexpected tactics. From now on forming a squad or a wing of pilots is going to be easier. You don't have to wait for a Squad invitation, and look for a suitable group yourself. And you can also open mass recruitment for your Squad or Wing.
Here's how the new Squad recruitment system works
The group leader can make it open by creating a public invitation to the group:
A solo pilot can also create a public invitation.Then he becomes the group leader.

The group leader can not apply for other groups.
The invitation specifies the task for which the group is created, and the minimum ship rank:
The invitation is valid until the group goes into battle or disbands.

Any pilot can respond to the invitation by submitting an application to join the group.

Pilots can submit any number of applications at the same time.

Applications do not expire.

Applications are cancelled if the pilot joins any group.

Applications are cancelled if the pilot creates his own group or invitation.

The leader can accept or reject the application of any pilot.

The pilot, whose application was rejected, no longer sees the same invitation.

The pilot who was expelled from the group, does not see the invitations from this group.

The pilot who was expelled from the group may join it again the usual way via a personal invitation.
Added a special 'Find group' button to game interface. Clicking it opens a screen where you can see all available groups, select the appropriate group or create your own, accept/reject pilot applications.
Sincerely,
Star Conflict Team
---