27 July 2017
DLC. Star Conflict: Engineer Evolved - Waz'Got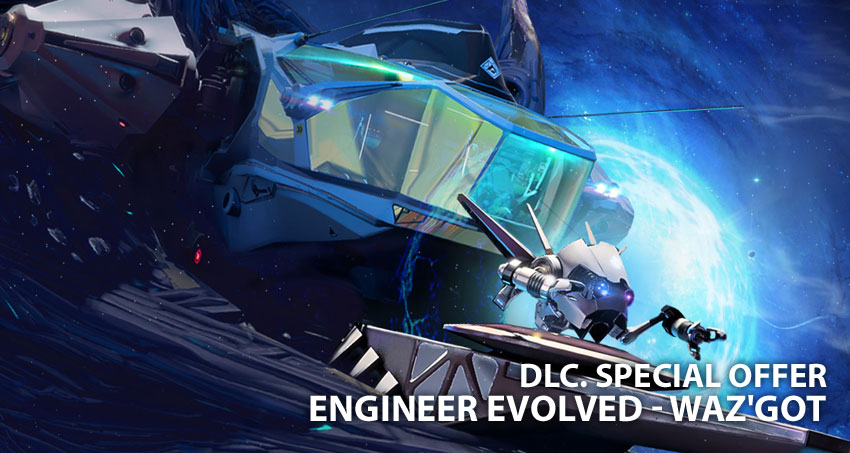 Just for the new 'ELlydium' ship we have prepared a unique offer for all Star Conflict pilots — a DLC 'Star Conflict: Engineer Evolved - Waz'Got'. The DLC will be available only from June 29 in the official store and on Steam.
This bundle includes
'Ellydium' engineering frigate 'Waz'Got'

Unique ship decoration 'Astromech'

Unique title 'Evolution master'

A special bonus for everyone who buys the bundle from June 29 — 90 days of premium license!
Not long ago, engineers and scientists of Ellydium Corporation organized a special secret society, 'Heirs of Da Vinci'. Those who are in the lodge, have access to the latest scientific data obtained during the study of the mysterious Leviathan. Join the society's ranks! We will win by the power of science!
The newest state-of-the-art engineering frigate 'Waz'Got' is the quintessence of scientific thought and the result of the collective work of all the employees and scientists of the Ellydium Theta station. The frigate's incredible capabilities will provide its allies with reliable support and will give a chance of victory in battle even over superior enemy forces.
The tech used in special and active modules are a further development of advanced scientific theory, developed under the guidance of Dr. Matthew Gilmore and Conrad Dimeni. A unique feature of the ship allows it to use the wreckages of destroyed ships to enhance its own power.
Premium license gives all pilots the right to receive more battle rewards. In addition, when executing contracts, pilots receive more loyalty vouchers! A pilot, who gets a premium license from the Command, quickly learns new ships due to increased synergy in combat. And when the battle ends, pilots with a premium license get two additional trophy search attempts — which means that the chance of getting new and unique equipment is higher!
If you purchase multiple DLC, bonuses to credits, synergy and loyalty are stacked. Together they give a bigger bonus! Premium license time and Galactic Standards are also stacked! You save your time and go straight into battle!
Sincerely,
Star Conflict Team
---