24 August 2017
New assignments from Arlette Sokal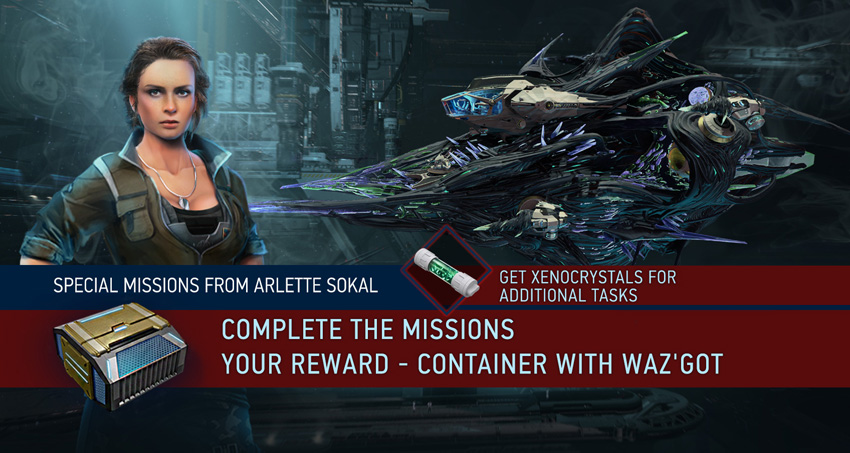 Attention, UMC mercenaries. This is head of the security at Ellydium Corporation, Arlette Sokal. All pilots are given the opportunity to get the necessary resources to build the cabin of the Ellydium engineering frigate Waz'Got in the shortest possible time.
For any three tasks completed, you will receive a reward — a container with cabin parts for Waz'Got.By carrying out the previous and new special tasks from Ellydium corporation, you can additionally earn xenocrystals!
Those who work for the Revenants would do well to spend more credits to repair their equipment.Deal damage to enemies during combat missions.

We need desperate pilots who can bring order to the base of the corporation!Complete the PvE mission 'Ellydium Base' in a certain time frame.

Competitors of Ellydium are known for their achievements in the field of AI piloting.We are interested in aces, who can show the best results in collisions with such opponents. Be among the top-3 most efficient pilots in Co-op vs AI mode

A grandiose PR campaign to promote the engineering frigate Waz'Got in full swing.Repair the allied ships in the PvE mission 'Ice Belt', piloting an engineering frigate.

We need to discredit the products of competitors from the corporation Blackwood!Piloting a frigate, destroy enemies in Coop vs AI battles.

Professionals are required to ensure the security of secret Ellydium farms from raiders and create a sense of inaccessibility of the facility. Win in PvE mode 'Defence Contract'.
Sincerely,
Star Conflict Team
---