19 December 2017
Global fleet revamp!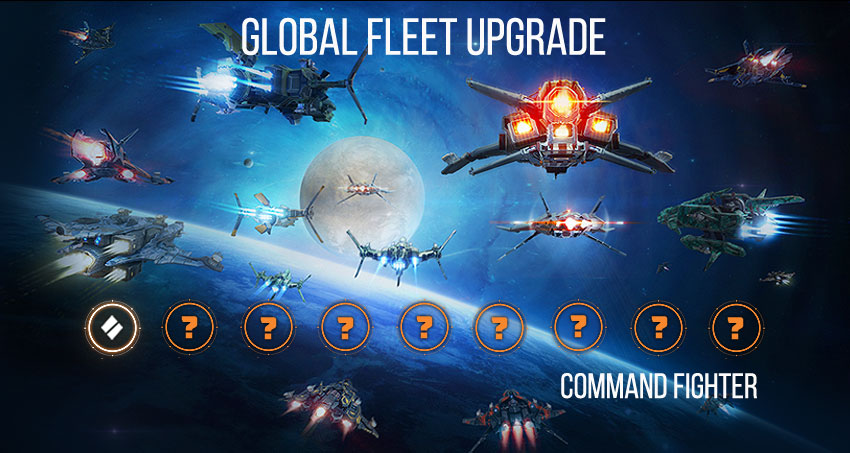 The UMC begins a large pre-series check of new equipment. Ships designed at the dawn of the game will receive the latest unique equipment and capabilities! New modules and weapons during the holidays can be quickly obtained with xenochips. The fleet will receive updates gradually, role by role. The ships of Command role will be the first to receive an overhaul.

Attention! We recommend that you obtain and upgrade the latest equipment as soon as possible! Purchase of experimental modules will be available only during the pre-series test. When the test concludes, the modules will be available during post-battle trophy search and in Open Space mode. We will announce the end of testing separately. Stay tuned!

The upgraded modules and ships will also help pilots get ranks faster in the upcoming new player progress system, which will be launched after the holidays. Progress through the ranks will happen in the form of a story campaign, covering a variety of game modes. Reaching a new level will give the pilot additional opportunities — new game modes, more powerful ships, weapons, modules. By raising his level the pilot will also have access to new locations in the 'Open Space' mode.
New weapons and modules
Weapons
New weapon 'Liquidator-X'
Kinetic weapon

Critical hits reduce the opponent's resistance to damage

Compatible with 'Axe-X', 'Lance S' and Premium-ships of the same role

New weapon 'Light coil mortar'
Kinetic weapon

A light coil mortar with increased range and projectile speed

When it deals critical damage, all allies receive a durability bonus

Compatible with 'Machete S', 'Sword S' and Premium-ships of the same role

New weapon 'Thermal energy burner'
Thermal weapon

Enemies lose energy after critical hits from this gun

The longer you fire, the higher the damage and the slower the projectile speed

Compatible with 'Prometheus X', 'Aura' and Premium-ships of the same role
Active modules
New module 'Mass charge accelerator'
Dual Mode Module

In passive mode, increases weapon damage

In active mode, increases ally projectile speed

Compatible with 'Axe-X', 'Lance S' and Premium-ships of the same role
New module 'Penetrating beam'
Releases a beam that damages the shield and hull of the enemy ship

Compatible with 'Hercules Arrow', 'Spartacus' and Premium-ships of the same role
New module 'Reserve energy circuits'
Increases rate of fire

Burns all the energy, granting the host and allies a bonus to rate of fire

Compatible with 'Machete AE' and Premium-ships of the same role
New module 'Energy cube'
Drops an energy cube that reduces enemy energy and accelerates the recharging of allied modules

Compatible 'Machete S', 'Sword S' and Premium-ships of the same role
New module 'Kappa' EM beam
Forms a beam that deals EM damage

Simultaneously, the ship gets a temporary bonus to EM shield resistance

Compatible with 'Katana', 'Sword' and Premium-ships of the same role
New module 'Mobile pulsar'
A pulsar appears at the crosshairs, dealing damage to all enemies within range

Compatible with 'Prometheus', 'Aura' and Premium-ships of the same role
New module 'Prometheus' defence
The ship makes a warp-jump to the ally, at the same time additional shields are placed on the ally and on the host.

Compatible with 'Prometheus X' and Premium-ships of the same role
The new module 'Repelling shield'
Installs an additional shield

Additionally repels nearby ships

Compatible with 'Katana S' and Premium-ships of the same role
Modifiers
New shield modifiers
'Integrated thermoshield'
Increases the ship's shield to thermal damage

If there are allies nearby, shield resistance increases even more

Compatible with 'Machete S', 'Sword' and Premium-ships of the same role
New engine modifiers
'Dynamic superchargers'

Increases ship maneuverability

Restores energy at high speed

Compatible with 'Katana', 'Sword S' and Premium-ships of the same role
New capacitor modifiers
'Volumetric energy absorber'
Constantly drains energy of nearby enemy ships

Compatible with 'Prometheus X' and Premium-ships of the same role 'Emergency regeneration'

When a ship is threatened with destruction, the shield and hull are restored

Compatible with 'Katana S' and Premium-ships of the same role
New CPU modifiers
'Combat Accelerator'
Increases projectile range and speed

Compatible with 'Hercules Arrow', 'Spartacus' and Premium-ships of the same role 'Improved loading algorithms'

Accelerates module cooldowns

Compatible with 'Prometheus', 'Aura' and Premium-ships of the same role
New capacitor modifiers
'Progressive energy flow'
Boosts ship energy

Recovers energy for each enemy that marked the ship as a target

Compatible with 'Machete AE', 'Lance S' and Premium-ships of the same role
---