11 January 2021
New pack "Star Conflict: Custodian. Deluxe Version"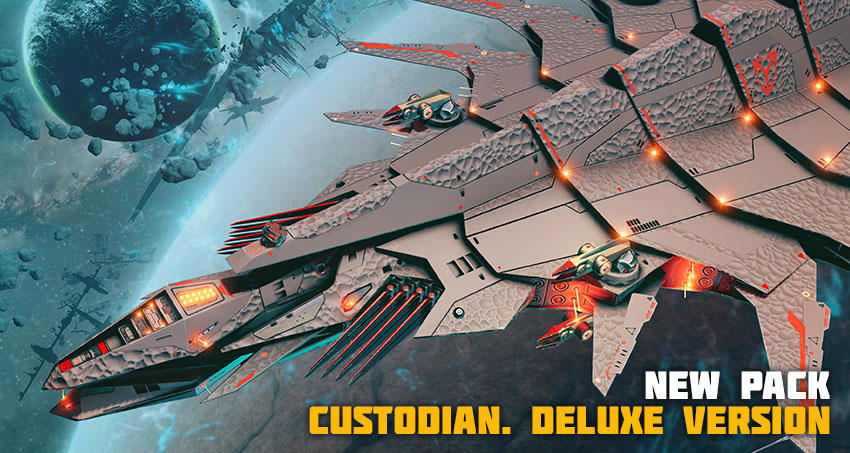 Pilots! The new "Star Conflict: Custodian. Deluxe Version" pack are now available in the official project store. The packs will be available for a limited time until February 15.
This pack includes
Jericho guard frigate "Custodian". Rank 17
Additionally, the pilot receives:
Unique title "Custodian captain"

Unique colourings "Snake" and "Crater"

Unique decor "Sundial"
Additionally, the pilot receives modules:
"Spectre" field

Pulsar

Emergency shield boost

Multiphase shield adapter

Auxiliary shield projector

Voltage regulator

Crystal plates

Proton wall
Special bonus for everyone who buys the bundle — Premium license for 90 days!
There have been, as still are, many rumours about Techs, the tech geniuses from Jericho. Only one thing can be said for sure — they're gone. Gone without a trace. Artificial intelligence remained after their exodus. It called himself the Sentinels and took control of the Jericho sector.
Although the Alien invasion was declining, their portals remained a problem, and the Sentinels assembled a special model of the ship to keep an eye on them.
In all the chaos that the galaxy is now, the production of new ships is not that active. Therefore, the Sentinels, who actively contact and support the victims, offered Custodian blueprints to the UMC. Especially for mercenaries who are trying to somehow maintain order in the sectors, the AI changed the original design of the ship so that it could be controlled by a person.
When purchasing multiple DLCs, the time for premium licenses is cumulative.
---