11 February 2021
Star Conflict 1.8.1 Valentine's Day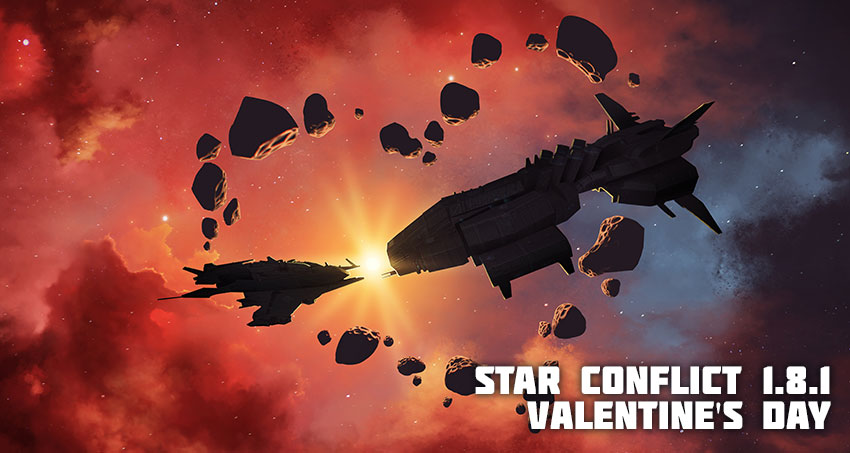 Pilots, the Star Conflict team wishes you a happy Valentine's Day! May happiness, love and luck always help you in battle!
Festive achievements
Especially for the holiday, we have prepared unique achievements for all pilots:
Achievement "Deadly Kiss". Destroy or help destroy one ship by ramming. Achievement is available until 06:00 GMT February 22.

Achievement "Close Contact". Destroy or help destroy one ship by ramming on the ship "Thar'Ga". Achievement is available until 06:00 GMT February 22.
New "Valentine's Day" pack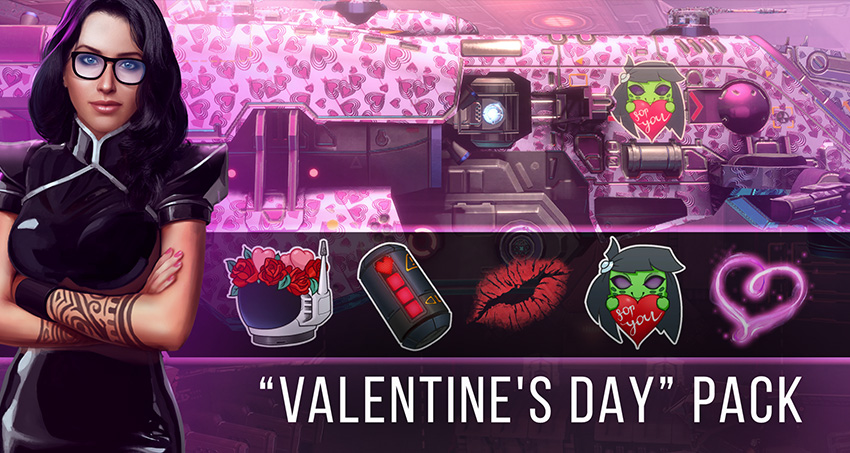 Especially for the holidays, we have prepared a "Valentine's Day" pack with new stickers and unique paint:
"Cupid's arrows" paint

"Plasma Heart" sticker

"Alien surprise" sticker

"Valentine helmet" sticker

"Care package" sticker

"Cherry kiss" sticker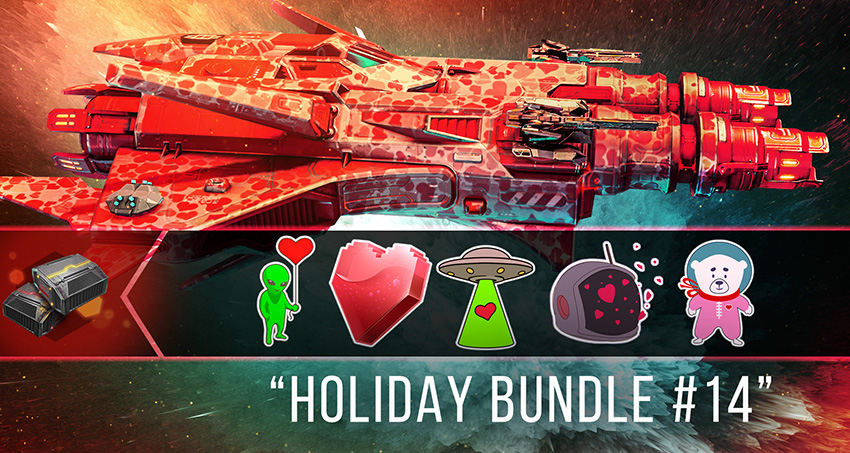 Holiday stickers and paint are now available. The pack will be available for a limited time!
"Valentine" paint

"Dopamine" sticker

"Gentle matter" sticker

"Superstar Bear" sticker

"Love abduction" sticker

"Alien Friend" sticker
You can get all the stickers in a special container. To do this, you will need to go to the "Bundles" tab.
New bundle "Star Conflict - Faction Wars. Battle pass level"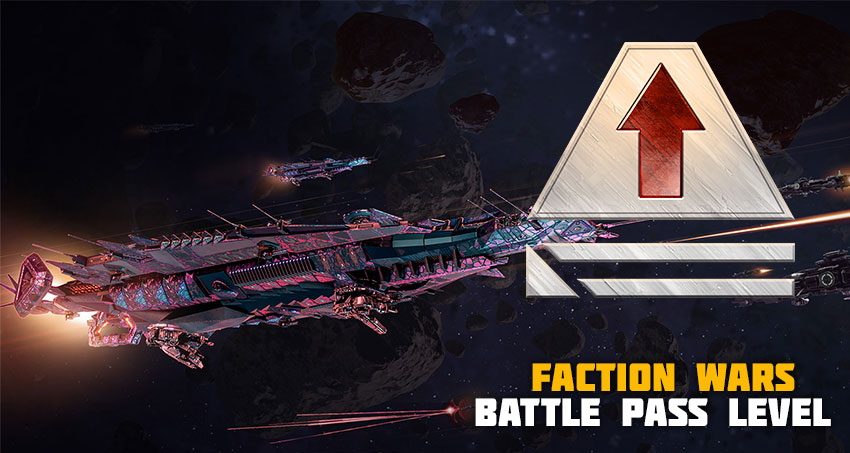 Attention! The pack "Faction Wars. Battle Pass Level " only unlocks the next stage for the players. To gain access to all rewards, pilots need to purchase the "Faction Wars. Stage one " or " Stage two ". The pass can be purchased at the official project store.
This pack includes
100 xenochips for increasing the event level by 1.

Buying a level will not unlock additional event rewards if you have not purchased the "Faction Wars. Stage one " or " Faction Wars. Stage two".
To get the reward, you need to unlock the desired stage. In order to gain access to the next reward you need to go through all the previous stages.
Ships
Destroyers
Base energy recovery speed increased by 10%.

The movement speed of destroyers through the warp gates has been increased from 500 to 2000 m/sec.
Weapons and missile slot
Quantum Railgun
The reload bonus of command modules from critical hit increased from 0.8 to 1.5%.
Thi'Es beam
Firing range increased by 10%

Damage increased by 10%

Minimum spread reduced to 0,15
Special modules and implants
Wardens microwarp engine
The blocking radius of enemy ships' computers increased from 750 to 1500 m.
Phase Jump
Cooldown increased from 20s to 25sec.

Jump range increased from 1200 to 1800 m.

Radar invisibility active time reduced to 5 sec.
Emergency landing
Shield and hull recovery reduced by 2 times.
Techs phase shield
Energy recovery from damage coinciding with the phase shield setting increased from 7 pts. to 35 pts. for hitting the shield.
Active modules
Liquid Metal Injector
Reload time decreased from 83 to 70 sec.

Hull regeneration increased by 15%.
Remote minelayer
The number of mines in the cassette has been increased from 2 to 3.
Gravi-wave
Activation deals 2000 damage to the hull

Activation does not replenish the drones of the special module
Landing platform 13
The range of ranks has been changed from 9-13 to 8-13.
Kinetic wave and "Deimos" engine
Preparation time increased from 0,5 to 1,5 sec.
Commitment
Recovery coefficient reduced from 6 (epic 4) to 4.
Bonus to player damage from the use of some ECM active modules on the enemy
Damage bonus reduced from 10% to 5%.

Maximum accumulation reduced from 5 to 3 pts.
Protocol regulation
Module cooldown increased from 23 to 30 sec.
"Moriarty" virus
Active time increased by 0,75 sec (from 6,25 to 7).
Ship modifiers and other changes
Small objects (drones)
Explosive damage ratio increased from 0,06 to 0,15.
Game modes
Portals
Allied beacon's restoration rate increased by 60%.
Achievements and medals
Medal "Last man standing" New it cannot be obtained in the "Beetle in the Anthill" brawl. The medal is an indicator of the pilot's ability to win in the most difficult situations. Therefore, rewarding it for battles on powerful ships is inappropriate.
Miscellaneous
Improved a number of texts and descriptions
The "Stockade" map was removed from the PvP rotation for revision.
Experimental destroyer
Now appears only in the "Dreamland" location.
Bug fixes
Fixed a bug with the missing mark about taking a bomb (in the list of players).

Fixed a number of issues with missing icons.

Fixed a bug with the lack of transport in the "Fort Muerto" location.

Fixed a bug when destroying the pirates did not affect the reputation in "Fort Muerto" location.

Fixed a bug with immediate destruction of the Cruiser in the mission "Defence contract".
Sincerely,
Star Conflict Team
---