13 April 2021
Final days pack "Plague Doctor"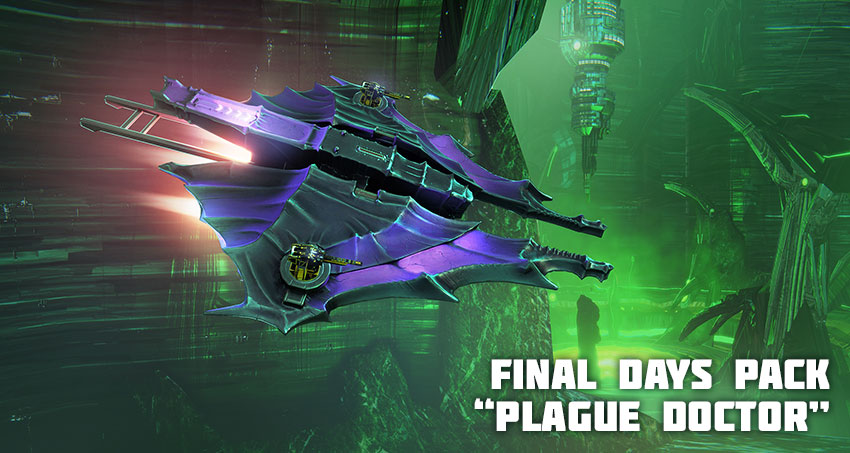 Pilots! The "Star Conflict: Plague Doctor" packs will be available for purchase until April 20. There are no restrictions on using the "Plague Doctor" ship in the game.
Star Conflict: Plague Doctor
This pack includes:
Jericho interceptor "Plague Doctor" (Jericho rank 13)

Pattern "Easy target"

Decor "Plague doctor's mask"
Special bonus for everyone who buys the bundle — Premium license for 30 days!
It is said that it was previously one of the Sentinels' ships. A mysterious association of artificial intelligences left after the disappearance of the Techs. The objectives of the Sentinels are unclear. According to one version, the Techs left them to keep an eye on the secrets of Jericho, which they could not take with them. According to the other, the Techs have finally merged with their machines in order not to fall under the influence of the biomorph virus, and now they live a "digital" life.
One of their ships was part of an ill-fated expedition to the ominous Leviathan, where the signatures were recorded similar to those recorded in the notorious Monolith. No one of that expedition returned back. Only the Sentinel ship escaped. Unrecognizably changed. As after a serious illness. The transformation affected not only his appearance, but also his capabilities. And his AI began to respond to the call sign "Plague Doctor". He looks for the infected everywhere and treats them as he considers right - by death.
A unique feature of this ship is the ability to infect ships. If a hostile ship contacted its other allies, then the infection spreads to them as well.
---