14 August 2023
The story of Helicon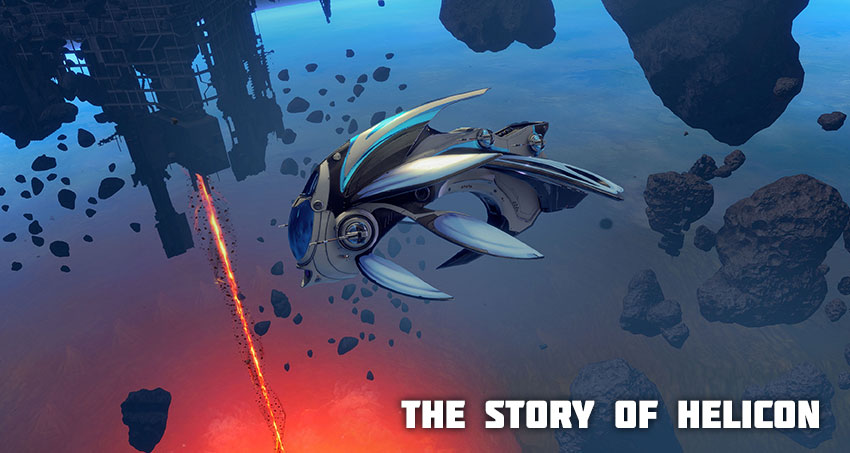 It was 4613, when an aristocrat from New Babylon, Gabriel Hugot, traveled on his yacht across the resort planets together with his family. During the flight, he was attacked by pirates. Getting the yacht out from the shelling cost him his arm due to serious damage during the attack.
Soon after, Hugot bought several stations of the Sanctum system and organized his own shipyard.
Three years later, the shipyard produced a series of armed yachts, which were immediately sold out. Working on equipping the ship with internal modules, the engineers optimized its space by creating additional power cells, which allowed the yacht's power unit to reach the level of military ships.
Hugot decided to increase the size of the yacht by equipping it with additional amenities, and also ordered a special main weapon which was designed to destroy attacking pirates. Separate electrical circuits made it possible to install a heavy pi-meson cannon "Peony", capable of quickly releasing several powerful volleys of unstable particles.
The reinforced and modified yacht got the serial name Helicon, and it has become a real work of art among civilian ships. Behind the appearance of a tropical fish hides a serious armour and a powerful computer that can quickly capture the target in sight.
Hugot never promoted his yacht as a combat one, and this caused the death of a couple of pirate squads trying to capture the Helicon of his friend.
From the conversation of the surviving pirate with Baron:
- Being on the outskirts of the Kayeed system, the "Mirror Carp" yacht got caught in our trap. We immediately offered the pilot to surrender his ship, promising to save his life. With a stuttering voice, the pilot agreed and went adrift.
The pirate's cheekbones were trembling with fear. Baron looked at him with angry eyes.
- Then why the hell does your ship look like a sieve? How did you manage to lose four ships and miss the yacht?
- He tricked us. As soon as we got close, the yacht fired several disintegrator volleys in a couple of seconds. Our three ships turned into piles of wreckage immediately.
- Are you kidding me? A yacht firing with disintegrators? Even Wardens' ships can't fire several volleys in a row!
Baron ran a knife through the neck of the negligent executor, and blood appeared on it. The pirate started to tremble even more and knelt down.
- I'm begging you. It's true, I have the on-board records. Right after that, he told us to surrender. We refused. The two of us were trying to avenge the guys who burned down because of that stupid yacht. A minute later I was left alone. And ran away.
- Useless meatbags! You can't do anything right! And I hate cowards.
Baron sternly looked at the kneeling pirate. The pirate tried to take a gun out, but it was too late.
- Where's the janitor? There's trash that needs to be taken care oft!
---